Hot Water Heaters
There are many types of water heaters today. Whether you have an electric, wall hung, heat pump hot water heater, oil etc. we will service and maintain your current hot water heating device. We also service solar hot water appliances. Call us today to have us inspect and maintain your home or commercial water heating appliances.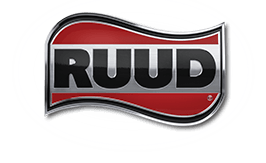 We PROUDLY sell, install and service RUUD Systems.
For information or to request a quote!