Oil Heating Systems
Today's oil heating systems are not the same as our parents old systems. Oil heat today has an efficiency from 82-95 (% AFUE). Standard units run lower on the scale starting at 82 (%AFUE) , the high efficiency units are 92-95 (%AFUE).
If you are looking to install a new oil heating system contact us today, we have many options in a variety of packages.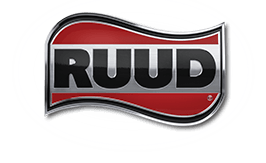 We PROUDLY sell, install and service RUUD Systems.
For information or to request a quote!
WTPI SERVICE Strives to keep up to date on new Technologies. We install high efficient oil boilers. These new boilers vent with a polypropylene liner or through the wall vent kit. There is no reason to switch to natural gas, as we can give you high efficiency (up to 92% AFUE) with a new oil boiler. No need to have to get rid of your oil tank and the costs associated with the removal. Let us help you stay green.
For information or to request a quote!